Home

Product Overview

How It Works

Pricing

About Us

Interactive Forms – Powerful Solutions
Make it easy for your practice to get
patient information and history data

Provide a valuable service to patients while reducing administration. Improve the timing and quality of data collected prior to patient visits.

Wyb2Form solutions make it easy to:
Provide clinicians with exam room history and information data formatted exactly how they want it


Save staff time when collecting and preparing patient history and patient information forms


Provide a new service that delivers patient convenience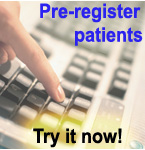 HIPAA calls for privacy and security standards that protect the confidentiality and integrity of patient health information.
more...